"I was not in a good place..." says the photographer who created this unplanned sequel to Heated story recently published in Kaltbult.
"After Heated, I was ready to take a break to recentre myself but also to allow new ideas to come up as to find new directions for my work. Clearly, I failed... at taking that break (laugh)," Jury says.
A couple of months after the latest publication, Jury suddenly started this new production. He explains: "I previously worked with Ty and randomly, we decided to go to the rooftop of the place I lived in Bangkok. We felt it was a good moment to take some photos. It was a unique and creative session as we ended up shooting until 1 or 2am! I had so many ideas flying through my mind."
After looking at the scans from that unimprovised session, Jury fell in love with the ambiance and the mood of those photos that he actively made the decision to pursue this undefined yet exciting project. "I couldn't tell what I was going to do with those photos but I felt I needed to understand why I was drawn to them so I quickly created a list of models I wanted to work with. I was unsure whether I was able to complete this project as shootings and film development always take at least a few weeks and... I was supposed to fly back to Europe soon," he adds.
After much reflection and the desire to explain this project, even if he desperately needed that break, Jury Krajcik rescheduled his flights and reorganised himself in order to complete this work. The production of this project was officially starting.
Jury wasn't the only one who was going through a dark time. 
Ty adds: "As I navigated through significant changes in my life and self-discovery, I had the pleasure to cross paths with Jury. Despite of being overwhelmed with emotions and constant anxiety, I was drawn in by his unique artistic vision. He has a way of capturing the essence of men's beauty that feels raw and authentic. Unlike the superficiality of social media, his models' eyes capture intimate and untold stories... Stories which speak to my soul." He continued. "Working with Jury was seamless - he understood me in a way that only a few others could. We connected in a deeper way and built this trust and respect towards one another. He brought out parts of me that I had kept hidden for years... At the time of the photo shooting, I felt it was the opportunity to completely release my soul and be free to express myself - my SoundCloud playlist was blasting, the rooftop was our stage and our communication flowed effortlessly. He couldn't not only see me. I felt seen. He pierced through my shell of insecurities and I just surrendered. I knew I was in good hands."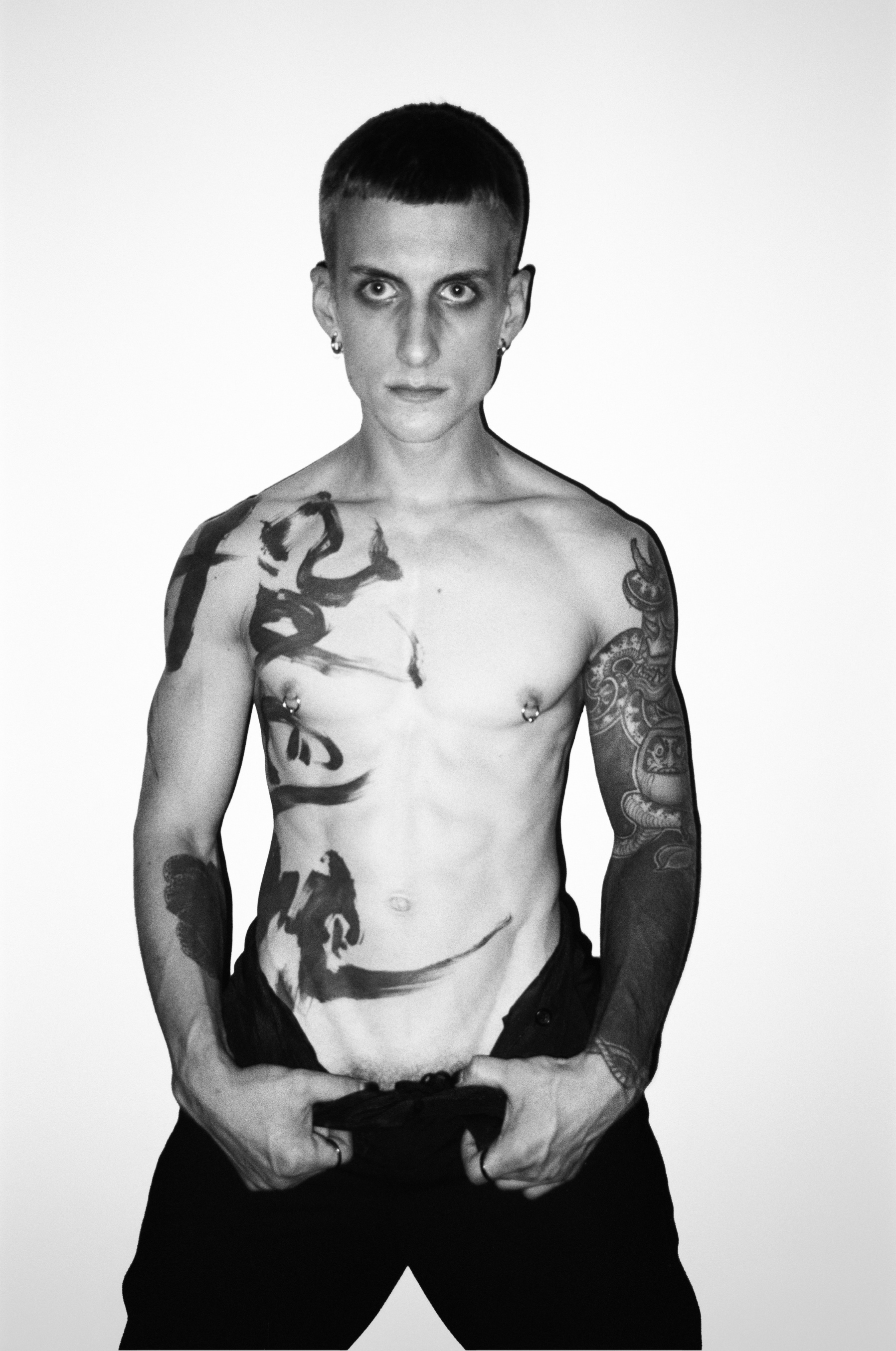 "Thanks to his professionalism and unique way of working , I felt empowered to fully express myself and create something extraordinary to me. Jury's ability to tap into my emotions and bring out my true self was remarkable. The journey towards happiness cannot be pursued without embracing the entire spectrum of our emotions, including the inevitable darkness that lies within us," Ty closes. 
During his dark days, Jury was still trying to define this project. "I was literally begging for the universe to get me out of the darkness. After one of the late night sessions, I went straight to a techno club. I saw myself in a mirror. I was wearing this trashy rave outfit but I knew deep inside I had to capture this very moment. It felt as a pinnacle time in this period. I guess today I can say that the universe did answer my prayer because I knew what I was going to do."
Even though the story almost didn't come to life, Jury took 6 weeks to work on it. "Last set with Igi (Ignacio Ferrari) was like seeing light at the end of the tunnel. We worked together a couple of times before and I appreciate the constant positive vibe and energy he brings. He is the person who makes you forget about all the drama you're dealing with," Jury says.
Igi continues: "A picture can't just be a simple picture. It has to convey something, and in order for that to materialize, an inevitable connection must be created between the photographer and the model. Jury's easy-going but professional attitude with a visionary outlook made it happen from the very first second we met. He doesn't only take photos of you. Jury takes the time to share his thoughts, listen to yours, explore ideas whether they would work or not. He does it with such ease that you feel immediately comfortable to try new things without being in a rush. He actually uses the time to deepen the project. It is the ability to make you realise of the beauty of simple yet memorable moments.
Jury adds: "Of course I appreciate to work with every other models and with those whom I call friends. Serge has been part of the night series since the very beginning and he always brings something compelling. Both his face and body work well on the film. I guess that's the benefit of being an actor as they know how to work with the camera. Everyone has put their effort, time and creativity into this project. They also help me put this together. I cannot thank them enough to have also been there for me through this dark time"
And that's how the sequel to Heated came to life.. A journey through a tough time but in the end there is always light out of the darkness.